The Association for Feminist Anthropology seeks candidates for a President-Elect to serve on the AFA Executive Board, 2019-2023.
President-Elect/President – 4 year term (beginning at the end of AAA 2019)
The President-Elect serves a two-year term as an active member of the Executive Board, joining and/or heading committees as well as shadowing and collaborating with the current President on AFA leadership issues. In the second two years of service, the President-Elect becomes President and assumes all of the duties and responsibilities associated with the office. The President is chairperson of AFA's Executive Board and serves as AFA's first representative toAAA's Board of Directors and the AAA Section Assembly. Acting on the advice of AFA's Executive Board, the President appoints committees and may appoint representatives to other societies or agencies.

We strongly encourage AFA members at all stages of diverse careers to apply. We welcome candidates from all subfields of anthropology in academic and non-academic positions who wish to contribute to the future of feminist anthropology by providing leadership at a crucial point in the association's history. The next President-Elect/President will help shape the course of a new
peer-reviewed journal as well as guiding the ongoing work of AFA, including innovative annual meeting programming and awards that honor and support cutting-edge feminist scholarship.

The President-Elect/President is expected to attend the AAA annual meeting every year and to preside at the AFA Board and business meetings during the AAA annual meeting.

Interested candidates should submit their candidate materials, following the AAA guidelines provided below, to Jennifer Patico, Chair of the AFA Nominations committee, via email to [email protected] by Monday, February 4, 2019.

Candidate Material Instructions

Biographical sketch

Format biographical sketches exactly as follows: include bold headings where appropriate (CV's will not be accepted):

Background (you do not need to include this title in your submission)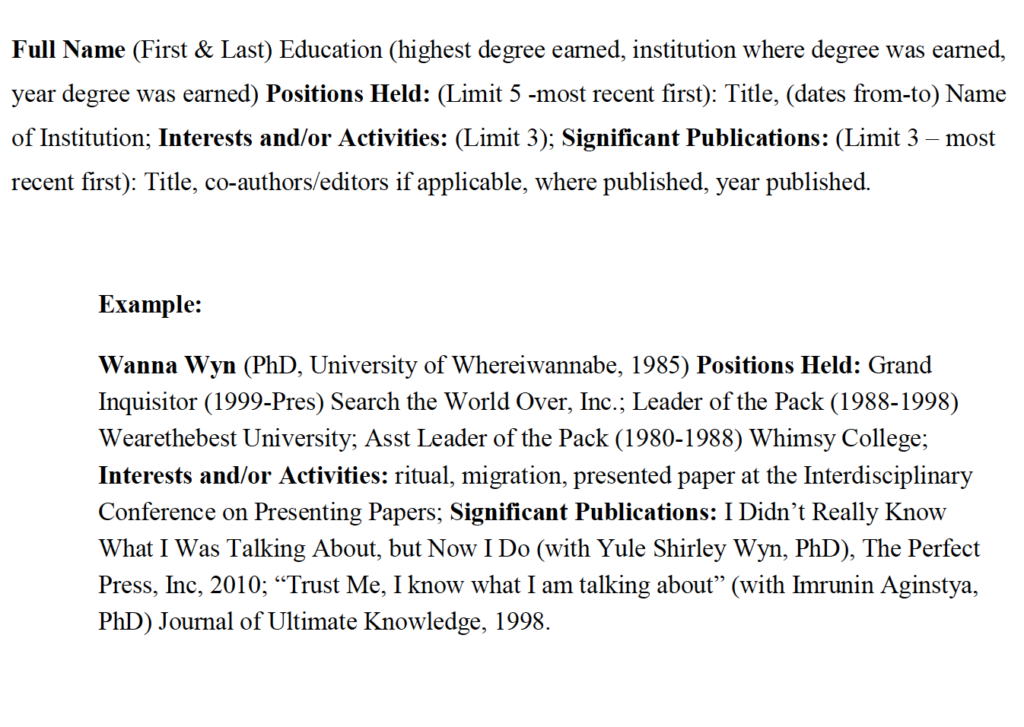 Platform statement (you do not need to include this title in your submission)

The platform statement should be approximately 200 words in length. Statements significantly over 200 words will be cut down to 200 words before publishing.

Optional photo

Photos will not be returned. Should you choose to submit a photo, and it is recommended that
you do, please do so electronically to your Section President or Section Nomination Committee,
as instructed by your Section.