The AFA is excited about our programming at the upcoming AAA Conference in San Jose. Below is a complete list of what we've got going on. 
(4-0645) Association for Feminist Anthropology (AFA) Awards Ceremony and Business Meeting
Friday 11/16/2018 – 12:15 PM – 1:45 PM
Location: San Jose Convention Center, MR 212 D
Summary of events and accomplishments by the AFA as well as discussion of current business and challenges ahead. Presentation of AFA Senior Book Prize, AFA Dissertation Award, Sylvia Forman Prize and Zora Neale Hurston AAA Annual Meeting Travel Grant. All AFA members and potential members welcome, especially new graduates, junior faculty and graduate students who are curious about becoming involved in AFA and serving on a committee. There are many opportunities to become involved!
Organizer: Meena Khandelwal, University of Iowa
Chair: Carla Jones, University of Colorado Boulder
(4-1335) AFA/AQA/NASA/ABA/AfAA/SUNTA/SANA/ALLA Joint Reception
Friday 11/16/2018 – 7:45 PM – 11:00 PM
Location: Fairmont, Regency Ballroom 2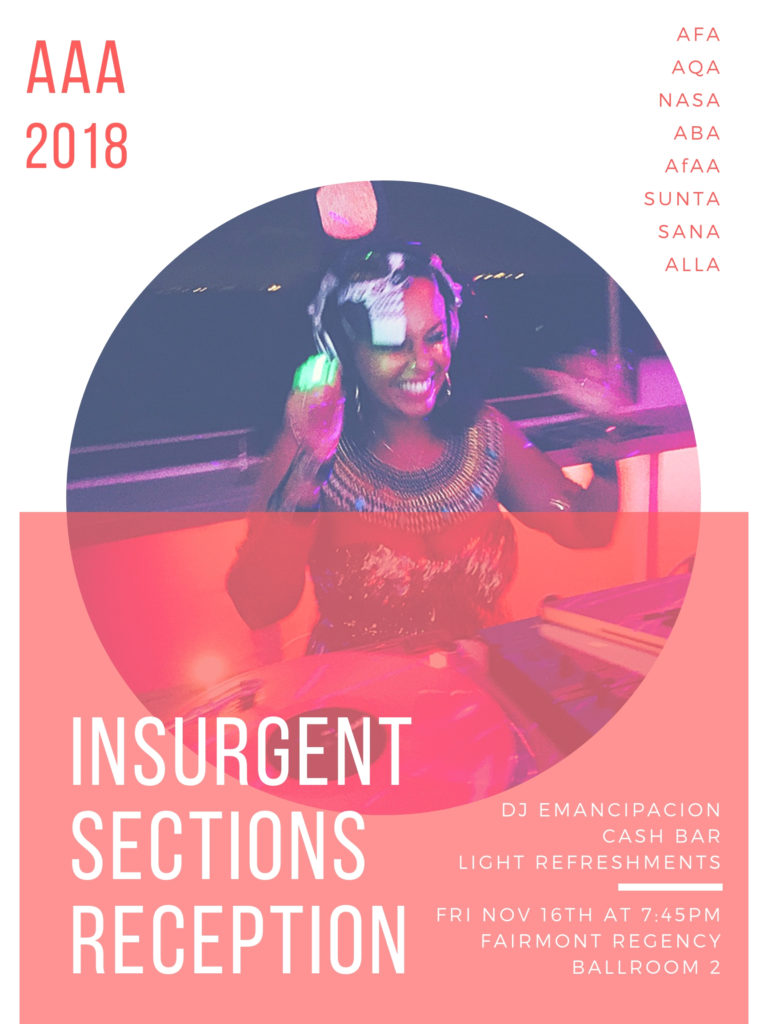 This is the joint reception for AFA, AQA, NASA, ABA, AfAA, SUNTA, SANA and ALLA sections. Section members and those interested in these sections are especially encouraged to attend, but all are welcome! This event includes light refreshments, a cash bar, and music provided by a local area DJ.
Organizer: Meena Khandelwal, University of Iowa
Chairs:  Jennie Burnet, Georgia State University
Erin Durban-Albrecht, University of Minnesota
Anahi Russo Garrido, Metropolitan State University of Denver
Savannah Shange, University of California, Santa Cruz
Jennifer Coffman, James Madison University
Anne Lewinson, Berry College
Belinda Ramírez, University of California, San Diego
Jonathan Rosa, Stanford University
Ruth Gomberg-Munoz, Loyola University Chicago
Roundtable – Executive Session
Of interest to: Practicing and Applied Anthropologists, Teachers of Anthropology in Community Colleges, Students, Those Involved in Mentoring Activities
(3-0525) Sexual Violence in Anthropology
Thursday 11/15/2018 – 10:15 AM – 12:00 PM
Location: San Jose Convention Center, MR 212 C
Anthropologists have important contributions to make to conversations about sexual violence both within and beyond our discipline. Our rich history of self-critique enables genuine introspection about the ways in which our methods and our culture might distribute vulnerability-and impunity-differently. Moreover, anthropological tools for analyzing structures of inequality, power, and violence have the potential to open up new possibilities for understanding and responding to the unfortunately widespread reality of sexual violence within and beyond our discipline. In an AAA roundtable entitled, "Sexual Violence in Anthropology: A Collective Conversation," we will turn a critical eye on the way anthropology and anthropologists respond to sexual violence.
The roundtable will discuss the ways sexual violence is imbricated-and might be confronted- in all aspects of our work as anthropologists. It will create space for reflection and for strategizing on how to address sexual violence within anthropology from our roles as educators, students, scholars, and fieldworkers in different institutional locations. Presenters will address anthropology's troubled early history of fieldwork and sexual violence and the institutionally produced nature of what constitutes danger in anthropology. We will also discuss pragmatic dimensions, including how to adapt advising, teaching, and institutions to support survivors of sexual violence.
Within each of these topics, there are numerous questions to be addressed, including:
How do we experience risk of sexual violence as differently positioned researchers in the field? How is vulnerability tied to ethnographic access?
How do we support students who disclose sexual violence?
How can we shift departmental norms and practices to respond better to sexual violence when it occurs?
How do we understand this conversation as a wider critique of anthropology as a discipline and the colonial roots of its investigative perspective?
What gendered and racial dimensions of this issue are not being adequately addressed, and how can we better address them, both institutionally and at the individual level?
How can anthropology, as a discipline, bring its unique perspective to bear on understanding and addressing sexual violence as it affects anthropologists?
How can we demand action on this issue, and from whom?
In addition to presenting panelists' views, the roundtable will invite audience commentary on these and other questions related to sexual violence in anthropology.
This roundtable is a continuation of an ongoing public conversation between anthropologists. At AAA 2017, we convened the roundtable "Sexual Violence in Anthropology," bringing together over fifty participants from multiple fields. The roundtable was the effort of two collectives working on sexual violence within anthropology, one that recently published "Toward a Fugitive Anthropology: Gender, Race, and Violence in the Field" in Cultural Anthropology, and another that organized a similar roundtable at AES in 2017.
Discussant(s):
Claudia Chávez Argüelles, Assistant Professor, Tulane University
Megan Steffen, Postdoctoral Research Fellow, Tsinghua-Michigan Society of Fellows
Chair(s):
Eda Pepi, Assistant Professor, Yale University
Mingwei Huang, Postdoctoral Fellow, Dartmouth College
Presenter(s):
Alix Johnson, Postdoctoral Fellow, Queen's University
Cheryl Rodriguez, Director, USF Institute on Black Life, University of South Florida
Samuel Williams, Max Planck – Cambridge Centre for Ethics, Economy and Social Change
April Petillo, Assistant Professor of American Ethnic Studies Native American/Indigenous Studies
Emphasis, Kansas State University
Gabriela Torres, Professor, Wheaton College, MA
Organizer(s):
Susan MacDougall, Postdoctoral Research Associate, University of Oxford
ABA/AFA/ALLA/AQA/SAW Mentoring Events at AAA 2018
ABA/AFA/ALLA/AQA/SAW have collaborated to offer six fabulous mentoring events at the AAA meetings in San Jose, all led by leaders in our fields.  Though confusingly listed as "Receptions" in the AAA program, these are truly mentoring events (Sorry, no refreshments!).  We particularly encourage our section members to attend, though sessions are open to all AAA members. There is no fee, and no advance registration is required. Participation is on first come, first serve basis, so be sure to arrive a few minutes early!
From Assistant Professor to Tenure and Promotion to Associate Professor
Thursday, Nov. 15      6:15 PM – 7:30 PM     Location: Marriott, Blossom Hill I
Chair Ilana Gershon, Associate Professor of Anthropology, Indiana University
Getting a tenure-track job is only the beginning of a successful academic career, and getting tenure is one juncture in the life-course of a faculty member. In this workshop, Dr. Gershon will discuss the components that make a successful tenure case and the challenges candidates may face leading up to tenure. What decisions about publishing, teaching and service can faculty make in order to maintain momentum and pleasure at all stages of academic life?
The Teacher-Scholar – Preparing for a Career in Teaching-Intensive Institutions
Thursday, Nov. 15      6:15 PM – 7:30 PM     Location: Marriott, Blossom Hill II
Chair M. Gabriela Torres, Professor, Wheaton College, MA
A contradiction rests at the heart of our discipline's training. Doctoral degree granting programs train students to work in similar programs, where research is the central and most rewarded feature of the job description. However, most academic employment opportunities can be found in teaching-intensive institutions which have a range of different expectations. This session will explore the following questions: What formal and informal skills should graduate students acquire early in their careers, while on the job market and in the first years of a tenure-track job? What are the advantages to career-life or job satisfaction of working in a teaching intensive institution? How can faculty better prepare their graduate students for these work expectations, so that they adjust smoothly as new faculty?
Work-Life Balance – Challenges and Choices in the Academic Track
Thursday, Nov. 15      6:15 PM – 7:30 PM     Location: Marriott, Blossom Hill III
Chair Riché Barnes, Dean of Pierson College and Affiliate Professor of Anthropology, Yale University
Despite ubiquitous rhetoric on work-life balance, truly balancing family and career remain elusive. In this workshop, Dr. Riché Barnes explores issues related to creation, limitations, or absence of policies allowing faculty and/or students to balance needs of work, family, and life outside the academy. Topics include: starting a family, setting realistic goals, strategies to handle super-productivity pressure, finding time for writing, pros and cons of conference trips with kids, prioritizing multiple demands, including partners and parents. Participants will explore the skills academics can bring to particular choices to achieve balance. Participants at any stage of their academic career and life course are welcome.
Career Strategies for Contingent Faculty
Saturday, Nov. 17       8:00 PM – 9:30 PM     Location: Marriott, Blossom Hill I
Chair Jordan Kraemer, Social Media Ethnographer and Visiting Scholar, New York University
With heavy teaching loads and scarcity of secure jobs, contingent faculty understandably find it difficult to research and publish at rates necessary to find secure employment. In this workshop, which defines 'contingency' broadly to include all those working in uncertain conditions, participants will share professional strategies for navigating the job placement landscape. What kinds of scholarship (traditional, public, a mix) can position oneself as a visible scholar? Involvement in AAA sections and other forms of engagement will be part of the discussion.
From Associate Professor through Tenure and Beyond
Saturday, Nov. 17       8:00 PM – 9:30 PM     Location: Marriott, Blossom Hill II
Chair Miranda Joseph, Professor and Chair, Department of Gender, Women, and Sexuality Studies University of Minnesota
While achieving tenure can be an all-consuming goal for many years, what comes next? In this workshop, Dr. Joseph will address the challenges faculty may face in the post-tenure years and offer a view of the full trajectory of the academic career. What decisions about publishing, teaching and service can faculty make in order to maintain momentum and pleasure at all stages of academic life?
Preparing for the Job Market
Saturday, Nov. 17       8:00 PM – 9:30 PM     Location: Marriott, Blossom Hill III
Chairs Erin Durban-Albrecht, Assistant Professor of Anthropology, University of Minnesota and Rosalyn Negrón, Associate Professor, University of Massachusetts – Boston
How does one stand out in a crowded job market? How can graduate students craft
compelling job letters, CVs and supporting materials? Although getting a tenure-track job can seem to be a mysterious process, this workshop will focus on the components of the application dossier that are within the applicant's control, and strategies for improving applicants' chances of success.
The AFA looks forward to seeing you all there!
Filters:
home page
,
news
,
portfolio