At the 2014 AAA Annual meeting, AFA honored several individuals for their contributions to Feminist Anthropology.
2014 AFA Dissertation Award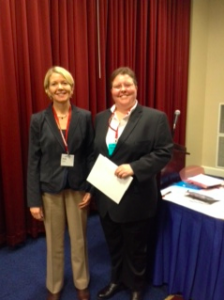 Megan Springate
Department of Anthropology, University of Maryland
Advisors: Holly Wardlow and Naisargi Dave
Becoming Women on the Shores of Lake George, New York: Wiawaka Holiday House and Women's Social Reform in the Progressive Era.
Progressive Era reforms, including improving labor conditions and settlement houses, were commonly philanthropic endeavors championed by women. These were a response to the incorporation of America, increasing immigration, increased urbanization, and a reaction to the resulting poor working conditions. The late nineteenth and early twentieth centuries were also a time of significant changes in what it meant to be a woman in America, as more women moved into the workforce, the passage of the Nineteenth Amendment, and changing ideology around women's sexual and social behavior.
Wiawaka Holiday House was founded in New York State in 1903 by middle-class women as a place for factory women to have affordable vacations. Using archaeological, archival, and documentary sources, Wiawaka serves as a case study of the complexities and contradictions of women's holiday houses, a common Progressive Era philanthropic endeavor which has been neglected in the literature. Questions about gender, class, power, the nature of reform, leisure and labor at these sites of philanthropy will be addressed in the context of Progressive Era philanthropic reform and of being a women in the early twentieth century.

2014 Sylvia Forman Prize for Student Papers
Graduate Recipient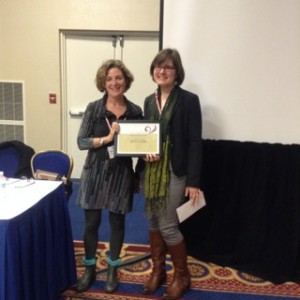 Jessica Mason
University of Wisconsin-Madison
Advisor: Prof. Maria Lepowsky
A Question of Belonging: Conspicuous Erasure and the Politics of Queer Visibility in Russia
In contemporary Russia, the LGBT community is entangled in simultaneous processes of visibility and erasure. This paper analyzes the politics of queer visibility in Russia through the lens of "conspicuous erasure," projects which highlight that which is to be excluded. The recent ban on "gay propaganda" has drawn public attention to LGBT Russians while simultaneously criminalizing public queerness. This conspicuous erasure, this paper argues, has created a space of cultural intimacy in which some Russians construct a national community on the basis of queer exclusion. Such projects call into question the valorization of "queer visibility" as a necessarily emancipatory process. Yet at the same time, pro-LGBT activists have their own visibility project, seeking to make conspicuous the erasure of queerness within the political opposition. Their conspicuous erasure seeks to create an alternative cultural intimacy, founded on experiences of repression and precarity, that might produce a more inclusive community of citizens.
Undergraduate Recipient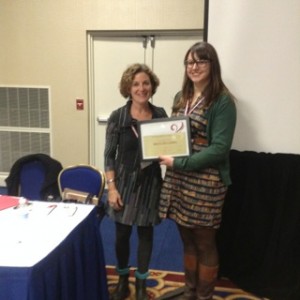 Brenna McCaffrey,
State University of New York at New Paltz
Advisors:  Meg Devlin O'Sullivan & Benjamin Junge
'To Hold These Two Things at Once': Discourses of Ethics and Reproductive Justice in Abortion Activism
Discourses of consumer choice, privacy rights, and defensive reactions to "The War on Women" continue to dominate mainstream organizations fighting for reproductive justice. Meanwhile, activists and volunteers who are "on the ground"—working with patients in abortion care and clinic defense—struggle with representing the realities of their work while reflecting the acceptable discourses of mainstream activism. This paper presents ethnographic research conducted with activists at a reproductive health clinic in the Hudson Valley, NY. I aimed to identify how suggestions about abortion discourse made by feminist scholars were understood and integrated into activist practice. This research was conducted through participant observation and semi-structured interviews with eleven activists. Key findings suggest that activists often think through "tough questions" about ethics, personhood and fetal life, and repeat abortion patients, yet understand the importance of "acceptable discourse" within the public face of activism. I argue that acceptable discourses about reproductive rights limit how activists and volunteers can engage with the political, moral, and intellectual conflicts that they encounter when fighting for reproductive justice. These limitations in turn decrease broad-based support for abortion access. An understanding of the reproductive justice paradigm and a willingness to accept "gray area" and conflicting ethical ideals allows some activists to mediate the realities of their work with the acceptable discourse of political activism. These findings suggest that discourses which allow activists to "hold two things at once" will help the reproductive justice movement gain supporters and affect change.

2014 Zora Neale Hurston Travel Grant
Holly Okonkwo is a Ph.D. candidate in the University of California, Riverside program in Anthropology. She is currently working on finishing her dissertation and at tended the meetings to present aspects of this work as part of the session: Ethnography ad Discourse in the Socialization of School Subjectivities. Her talk entitled "She Builds Robots: African American Women Transforming the Grid of Science and Technology" traces the discursive origins and implications of notions of what it means to be a scientist, utilizing the narratives of self-identified African and African American women computer scientists.
Kamal Arora is a Ph.D. candidate in the Department of Anthropology at the University of British Columbia.  She presented a paper and chaired a session entitled Matters of Faith: Feminist Anthropological Explorations of Religion and Gender.  Her talk entitled "Sikh Women in New Delhi's 'Widow Colony': On Affective Religious Practice, Memory, and Violent Spatiotemporal Junctures,"examines contemporary gendered religious practice and memory among Sikh widows in New Delhi, India. Specifically, she considers how religious practices have shaped memories of communal violence directed towards the Sikh community in 1984.
Luciane Rocha is a Ph.D. candidate in the Department of Anthropology/African Diaspora Program at University of Texas at Austin.  This year she presented a paper as part of the session: Sorrow as Artifact: Black Radical Mothering in Times of Terror. Her talk entitled, "Tray-matic Resistance: Black Mothers and Emotions in the African Diaspora", analyzes the ways in which black women who have experienced the loss of a family member transform individual mourning into political strategy to achieve social change and racial equity.
Filters:
home page
,
news
,
portfolio