The Association for Feminist Anthropology is delighted to announce the 2016 recipients of the Sylvia Forman Prize for Student Papers.  The committee selected two winners and two honorable mentions from an unusually high number of submissions this year. We take this as a wonderful sign of the health of our field, and are honored to reward the outstanding scholarship we considered.
The Association will celebrate their fine work and their faculty advisors' mentorship at the AFA Business Meeting, 12pm, November 18, in Minneapolis.  Please join us!
Graduate paper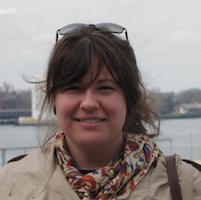 The Sylvia Forman Prize for outstanding graduate student paper will be awarded to Erin Moore, for her paper "Detoothing Kampala: 'Idling' and the Politics of Evasion in Kampala's NGO Economy," advisor Jennifer Cole (University of Chicago).
Moore's essay weaves together detailed ethnography with theories of temporality to propose specifically gendered insights into the experience of time. As she says, "To detooth, in the urban slang of Kampala, Uganda's capital city, is to take a man's money while withholding the other end of the transactional sexual deal. In this paper, I show how young urban women detoothed not only their male suitors but also Kampala's widespread and well-resourced NGO economy, which is predominantly focused on girls and women. In particular, the worldwide movement to "empower" adolescent girls has given new shape to population control initiatives in Kampala by focusing on economic and social empowerment as pregnancy prevention. At public health events there in 2012-2013, government officials advocated for reducing unwanted pregnancies by occupying girls' time. These officials voiced a fear that, when idle, young urban women transact sex for money, or, more simply, because they are bored. Idling has also drawn recent interest from anthropologists, who concentrate on the ways urban youth "hang out" in the face of economic precarity in the global South. This literature, however, often excludes young women because they are presumed to be, and often are, continually laboring within the home. The elision of young women from politicized time-passing practices reproduces a division between household and waged labor that assumes "the household" mediates how women experience the exchange of money and time. By contrast, using a feminist analysis I show how even amidst housework and NGO-remunerated piecemeal labor, young women in urban Kampala still made time to idle. Because they both anticipated and responded to the global macroeconomic logics of contemporary population control initiatives, these idling practices became the vehicle through which young women detoothed Kampala's NGO economy."
For a list of previous winners click here
For more information about the awards and how to apply next year click here