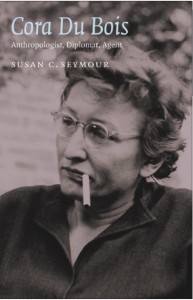 Although Cora Du Bois began her life in the early twentieth century as a lonely and awkward girl, her intellect and curiosity propelled her into a remarkable life as an anthropologist and diplomat in the vanguard of social and academic change.
Du Bois studied with Franz Boas, a founder of American anthropology, and with some of his most eminent students: Ruth Benedict, Alfred Kroeber, and Robert Lowie. During World War II, she served as a high-ranking officer for the Office of Strategic Services as the only woman to head one of the OSS branches of intelligence, Research and Analysis in Southeast Asia. After the war she joined the State Department as chief of the Southeast Asia Branch of the Division of Research for the Far East. She was also the first female full professor, with tenure, appointed at Harvard University and became president of the American Anthropological Association.
Du Bois worked to keep her public and private lives separate, especially while facing the FBI's harassment as an opponent of U.S. engagements in Vietnam and as a "liberal" lesbian during the McCarthy era. Susan C. Seymour's biography weaves together Du Bois's personal and professional lives to illustrate this exceptional "first woman" and the complexities of the twentieth century that she both experienced and influenced.
To download an order form to purchase the book from University of Nebraska Press, see the Cora Du Bois flyer.