In Celebration of Helen Icken Safa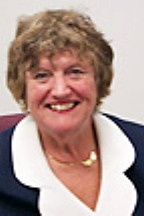 Helen I Safa passed away November 4, 2013 just one month shy of her 83rd birthday. Safa was a congenial colleague, excellent mentor to other faculty, students, and staff and a consummate organizer and leader. Born and raised in New York, she had retired a mere 16 years prior to her passing, from University of Florida's Department of Anthropology. She also was retired as a member of the Latin American Studies Center, where from 1980-85 she served as Director. Helen continued to do the things she loved, mentor, advise and attend Latin American Studies Association and American Anthropological Association meetings. But, most of all, she took tremendous delight to travel to places that were dear and very meaning to her: Puerto Rico, Spain, Cuba and Germany and different locales in the United States where she visited friends, colleagues, and family.
As valedictorian of her high school class, Safa applied to two universities and chose Cornell so that she could live away from home. At Cornell, Safa earned a BA (1952) in Political Science and was elected to Phi Beta Kappa. Following graduation, she returned to New York City and landed a job as a research assistant for the Puerto Rico Study sponsored by the New York City Board of Education. This position was the genesis of what would become her renowned relationship with the peoples of Puerto Rico, both in New York and on the island. For the next couple of years, Safa worked for the Commonwealth of Puerto Rico. It was during these projects related to Operation Bootstrap that she developed her interest in anthropology. When she decided to pursue graduate work in anthropology, however, there was no program at University of Puerto Rico. UPR sent its graduate students abroad, so Helen Safa became an honorary Puerto Rican and part of her tuition at Columbia University then was paid, by the Commonwealth.
At Columbia, she worked with primarily with Conrad Arensberg and Charles Wagley, and was also a student of Margaret Mead who was supportive of Safa's studies. According to an interview published by Kevin Yelvington in Caribbean Studies (2010,13), some of Safa's friends from Columbia were Zandy Moore, Sydel Silverman, and Gloria Levitas. Safa earned her MA in 1958 and the Ph.D in 1962 based on work in Puerto Rico with the Urban Renewal and Housing Administration.
Helen Safa's first academic job was at Syracuse University where she was the first urban anthropologist on faculty. In 1967, she joined the faculty of Urban Planning at what was then an experimental program at Livingston College at Rutgers University. Between1967 to 1972, she was an Associate Professor of Anthropology and Urban Planning. She was also Director of the Latin American Institute at Rutgers. In 1974, Helen Safa moved her faculty line from Urban Planning fully into Anthropology, was promoted to full professor, and became the department Graduate Director (1974-76). Also with that move, Helen Safa became the New Brunswick Chair: she was chair of the anthropology department at Livingston and for all those throughout the Rutgers University system.
During her days at Rutgers, her book The Urban Poor of Puerto Rico (1974) was published. Considered a pioneering classic urban ethnography, The Urban Poor debunked the myth of "the culture of poverty" on both empirical and conceptual grounds (Duany 2010, 41). At the core of this work was her emphasis on how social inequality is fostered and maintained by institutions rather than by individuals. With that book, Safa, according to Jorge Duany, became the most prominent ethnographer of contemporary Puerto Rico.
When Helen Safa joined the faculty at University Florida, her work in progress would become The Myth of the Male Breadwinner (1995). That comparative study was based on research in Cuba, Puerto Rico, and the Dominican Republic. The book argues that, contrary to popular and common academic stereotypes at the time, women's work outside of the home has impact on family life and marital relations as well as on household economies. The importance of women's work in the international division of labor scale fostered by foreign investment in those local economies was partly influenced by this book. This work followed Safa's co-edited publications with both June Nash and Eleanor Leacock. Helen Safa's publications are extensive and continue in classroom use.
Helen Safa was President of the Latin American Studies Association and guided that organization from a male centered one to a more inclusive professional group. She and the late Elsa Chaney founded the Gender and Feminist Studies Section that helped in that institutional transformation.
In 1996, the Puerto Rican Association of Anthropology and American Ethnographical Society presented Helen Safa with honors as a pioneer of Puerto Rican anthropology. During the 1996 AES meetings, there was a panel honoring Helen Safa. The proceedings were published in the 2010, Vol. 38, No. 1 issue Caribbean Studies edited by A. Lynn Bolles and Kevin Yelvington. Other honors Helen Safa received include, most fittingly, the 2003 Conrad Arensberg Award from the Society for the Anthropology of Work and the University of Florida's Center for Women's Studies and Gender Research 2006 "Uppity Woman Award."
Perhaps most telling of the tremendous impact Helen Safa's career as a scholar, mentor, organizer, leader, networker, colleague and friend was being presented the 2007 Kaman Silvert award of the Latin American Studies Association. Bestowed to Helen Icken Safa at its international Congress in Montreal, the Silvert is truly a distinguished lifetime achievement award that was well deserved.
Helen Safa is preceded by Manu Safa and is survived by her husband John Dumoulin, her children, and grandchildren. She is remembered with admiration and fondness by hosts of colleagues, friends and former students.
-A. Lynn Bolles
November 11, 2013